By Rainee |
22
September 2021 |
0
Comments
Outdoor Cantilever Racks-The Best Way of Storage Space Extending
Cantilever Racking is the ideal product for storing
bulky
,
irregular,
or awkward materials
products, or goods of varying lengths
. They are often hard to store because of their shape or length, such as
furniture, steel tubing, PET/PVC piping and lumber, etc.

The Structure of Cantilever Rack
The cantilever rack system consists of uprights, bases, arms, and bracing. In an outdoor warehouse, there will be a roof added, according to the need of our clients, on top of the uprights to offer sufficient protection against the effects of the weather.
Upright Column
Uprights are available in single or double-sided configurations. The only difference between the two is that with double-sided uprights, you can store material on both sides of the rack.
Base
The anchor the rack system to the floor and also connect to the unit's upright.
Arm
It is the horizontal beam that extends out to create a level to store materials on
.
Bracing
It is used to connect the upright and provide both horizontal and diagonal support.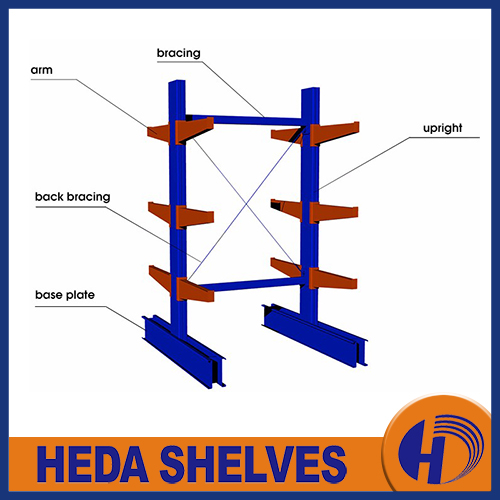 How Do Cantilever Rack Work
The base and the column are welded acting as the main stabilizing component
, and the arm is connected to the column by bolt, which brings the system
stability and safety
. With the outdoor cantilever rack,
a rust-resistant material will be coated to protect the system from the effect of the weather.
The Benefit of Outdoor Cantilever Rack
If you're constantly running out of storage space in your warehouse, avoid a costly and logistically complex warehouse relocation by storing some of your products outside.

● Customized to the product being stored
● Infinite height, width and capacity combination to fit any area
● The most efficient way to store long and irregular items
● The open front is free of obstructions for easy forklift access
● Creates additional storage space
● Save the cost of building maintenance, heating, air conditioning
Things You Need To Pay Attention When Choosing Heda's Outdoor Cantilever Rack
Local Environmental Condition
It is wise to take environmental conditions into account as inclement weather conditions will directly affect the goods. Even though there will be a roof to protect the goods and anti-rust materials to guard the rack. A warm climate such as Australia will be perfect for the cantilever rack to extend durability.
Access the Risk of Goods Being Stolen
It will have less protection and privacy in the outdoor warehouse. It's necessary to evaluate whether the product to be stored is of high value and whether surveillance systems or other protection measures are needed.
Advice To Your Forklift Drivers
It'
s an effective way to train your forklift staff about the danger of
lo
ading or unloading in ways that slam the cantilevered arms.
Higher Cost Compared With Indoor Cantilever Rack
As the outdoor cantilever system will be exposed to elements and environmental moisture, a rust-proof material
will be coated on the surface of the rack. Accordingly, there will incur another cost.
About Heda
Heda Shelves is a company specialized in designing, manufacturing, selling and installing all types of display and storage shelves. We help businesses and warehouses maximize their storage capacity so they can serve more customers, and ultimately increase their profits. Your safety is our priority, which is why we only use high-quality supplies. With more than 20 years in the materials handling and warehouse industry, we're a leading racking supplier in China.
Our factory, advanced facilities and professional workmanship ensure our further improvement. We have made various fashionable and high-end shelves for different well-known brand customers. Our products are very popular in Southeast Asia, Australia, Europe, America and Canada. We have gained great credit from our foreign customers.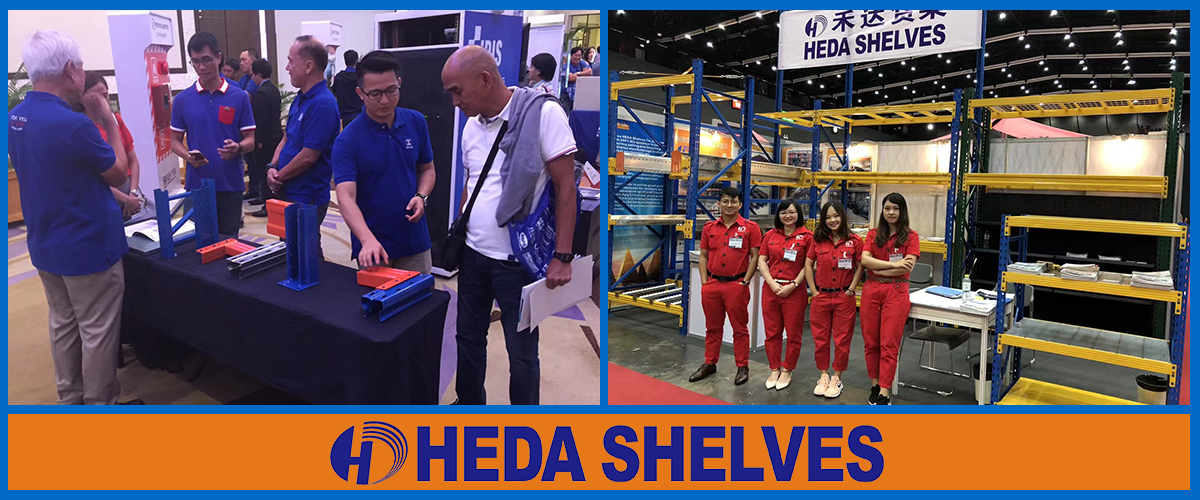 Leave a Reply
Your email address will not be published.Required fields are marked. *