By Rainee |
09
August 2021 |
0
Comments
Mezzanine Floor-The Most Multifunctional Warehouse Racking System
The Definition of Mezzanine Floor
Mezzanine Floor(also known as Freestanding Platform or Industrial Work Platform) serves as an intermediate floor between the ground floor and ceiling that
does not completely cover the entire flooring below
.
Mezzanine floors can be designed to
a number of different specifications
including varying load ratings, layouts, deckings, railing types, etc.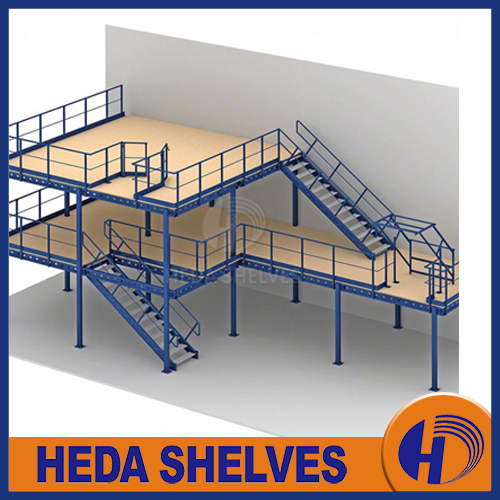 The Structure of Mezzanine Floor
Primary Beam
The beams are the main support of the mezzanine.
Column
The vertical part of Heda Shelves
'
mezzanine floor is composed of two columns with double stability and safety. It acts as the support of the primary beam to make the weight spread.
Decking
There are a variety of decking materials and thicknesses for you to choose from
.
The ideal choice will depend on the type of goods stored and the loading capacity required.
Safety Gate
The gate ensures safety, also works as an entry and exit to properly load and unload inventory and materials, a lift can be built to connect to the gate to facilitate the transportation of the goods.
This is why mezzanine floor makes storage and picking items simpler.
Staircases
Staircases of a mezzanine floor provide adequate safety for people using the platform levels.
Hand-railing
Worked as one of the e
dge protection
, it is one of the basic parts of the mezzanine system.
Protector
The protector is installed on the front of the column to protect it from the collision between the forklift and the columns caused by the driver's poor skill.
Advantages of Mezzanine Floor
Space Optimization
Air space that is simply ignored above the existing storage areas can be used to produce an additional floor. Whenever a facility needs to solve their space needs fast and affordably, mezzanine floors are the best solution, by effectively
doubling the usable space
it covers.
High Customization
Each of Heda
'
s mezzanine systems is
highly customized
to meet the needs of several storages or working spaces.
Movement Flexible
The mezzanine floor can be completely disassembled and re-used and be combine with selective racks to be the best warehouse storage system.
Disruption Minimum
W
hether warehouse relocation or building expansion, it will inevitably
result in disruption to daily operational activities
or interruption to the work plan.
Heda
's mezzanine floor can be installed and removed quickly as it is an independent floor.
Cost-Effective
Creating more space without moving workplaces allows you to avoid paying expensive moving fees. Mezzanine floor is not generally subject to additional rent and rates as it is designed as a piece of building equipment.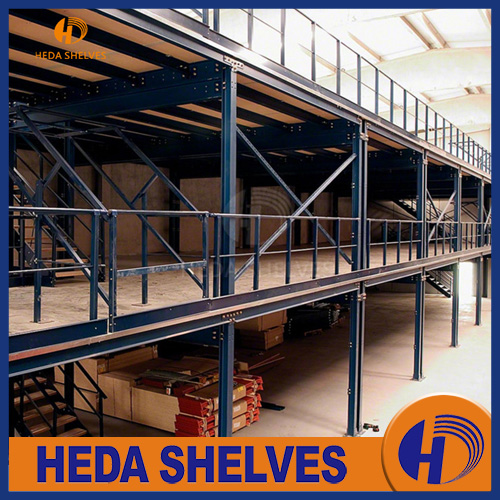 Details You Need To Consider When Choosing Mezzanine Floor
The Products you store
The thickness of the decking is optional according to the type and the weight of the goods stored. It is crucial to decide with our engineers which material will fit your needs.
Ceiling Height of Your Warehouse
Our mezzanine floor will offer maximum potential within a high roof of the building. However, it is not an ideal choice for the warehouse with ceiling below 4.5m.
Fire-Rated protection
It does need to do measure for fire prevention if the mezzanine floor doesn
'
t occupy your place (used for storage) permanently, only some alarm systems needed to be set.
H
owever, if it needs to be used all the time, fireproof decking will be recommended.
Your Next Step
Guangzhou HEDA Shelves Co., Ltd.
brings you the strength of structural steel at an economical roll-formed steel cost. In addition,
b
uilt from cold-rolled steel,
our multi-tier mezzanine floors are capable of withstanding substantial loads, making them ideal for almost any function.
Installing a mezzanine system rather than expanding your building allows you to avoid additional property taxes and take advantage of more favorable depreciation rates.
Each system design includes a
detailed installation
video
at no extra charge
. This enables you to secure the necessary permits quickly and economically without delaying project completion.
About Heda
Heda is a company specialized in designing, manufacturing, selling and installing all types of display and storage shelves. We help businesses and warehouses maximize their storage capacity so they can serve more customers, and ultimately increase their profits. Your safety is our priority, which is why we only use high-quality supplies. With more than 20 years in the materials handling and warehouse industry, we're a leading racking supplier in China.
Our factory, advanced facilities and professional workmanship ensure our further improvement. We have made various fashionable and high-end shelves for different well-known brand customers. Our products are very popular in Southeast Asia, Australia, Europe, America and Canada. We have gained great credit from our foreign customers.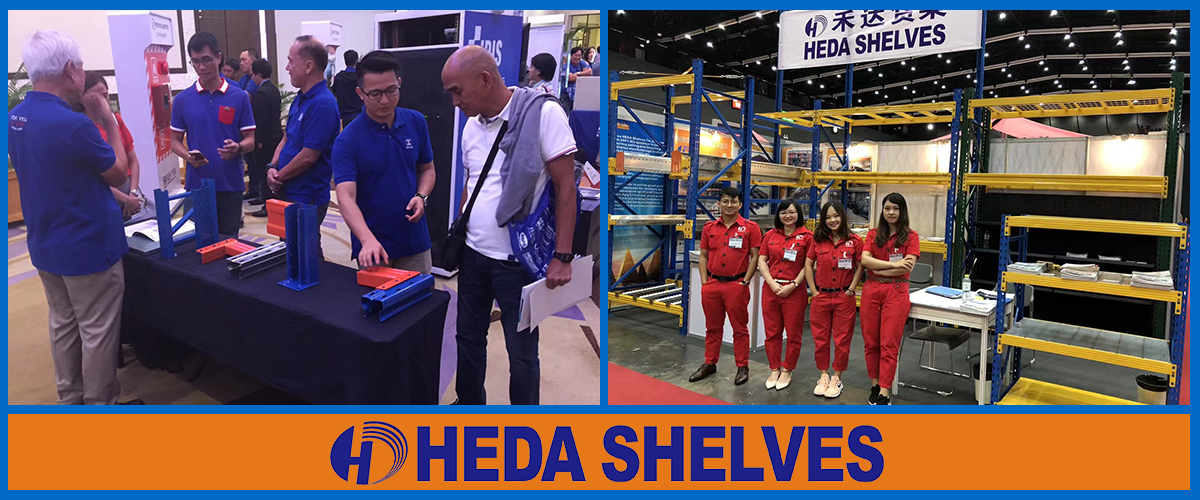 Leave a Reply
Your email address will not be published.Required fields are marked. *