By Rainee |
15
October 2021 |
0
Comments
Racks For Tire Storage-Which Is The Right Option
Tire Storage Rack is specially designed for tire storage. Compared with the tires stacked directly in the conventional storage rack or hung on the cantilevers of the cantilever racks, the tire racks for warehouses have higher access efficiency and are favored by more and more enterprises. So, what is the structure of the tire storage rack? How to choose the right one? Today, Heda Shelves will give a brief introduction to help you make the right choice.
Conventional Rack & Cantilever Rack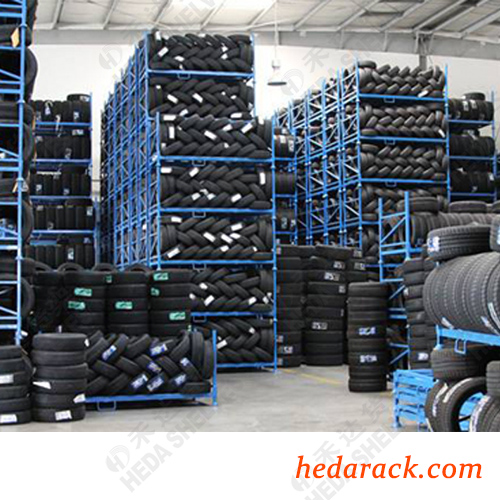 Above Is the effect of tires directly stacked on conventional racks.
Multiple tires are stacked together on iron layers, wire mesh layers or wooden layers, which has no inventory. While picking up, the upper tires must be removed before the lower tires can be taken out, which, to a certain extent, affects the picking up efficiency. And the tire hung directly on the cantilevers of the cantilever racks in the same way that uses FIFO inventory as the conventional storage rack.
Tire Storage Rack
As shown in the figure below, the structure of the tire storage rack is simple in that the main frame consists of columns and beams, and then the support bars are installed on each layer. Heda's engineers will design the ideal tire storage rack for your warehouse/garage/retail store according to the tire specification, storage capacity and other factors. It's the main type of tire rack for garages. Tires are stored side by side in tire racks for garages, which facilitates the daily operation of garages and car dealerships to pick out any tire at the owner's will. The FILO inventory management is goods for warehouse management and increases the access efficiency.

Heda's tire storage rack has a very high cost performance. Click Car Tire Storage Rack For Car Dealerships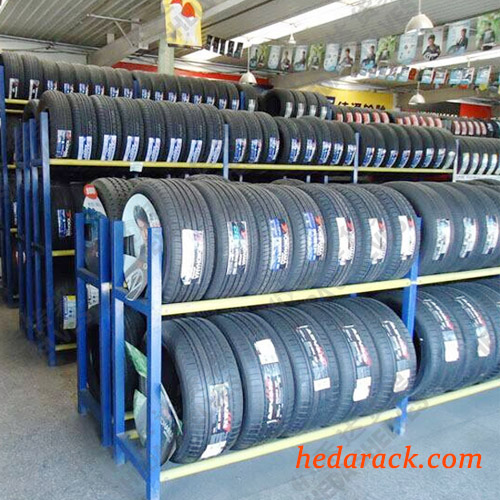 Tire racks for warehouse
Of course, when some warehouses have a large inventory and tires stored most are of the same specification, tire racks for warehouses can also use the conventional pallet racks or cantilever racks, which will not affect the efficiency of storage and picking. In addition, tires can be packed together and accessed by forklifts.
Tire Stacking Rack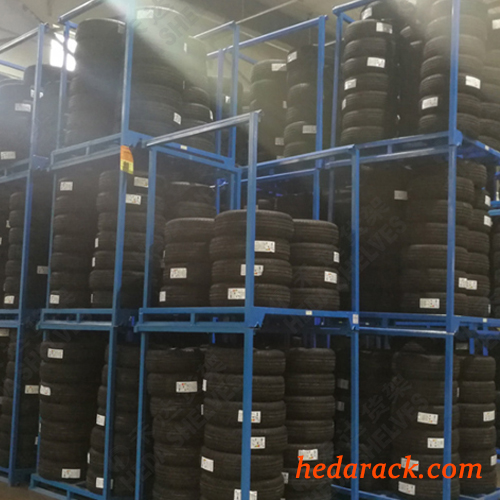 Also, the stacking rack above is also a kind of tire storage racks.

It's a type of tire rack for warehouses that are mostly used in the warehouses of tire manufacturers who often operate in batches. The stacking rack has obvious advantages in batch operation.

Above are the options about choosing tire storage racks, click
Car Tire Storage Rack to know about Heda's products.
About Heda
Heda Shelves is a company specialized in designing, manufacturing, selling and installing all types of warehouse storage racking systems like cantilever racking and pallet rack supported mezzanine, shop display shelves and customized display shelves like power tools display rack. We help businesses and warehouses maximize their storage capacity so they can serve more customers, and ultimately increase their profits. Your safety is our priority, which is why we only use high-quality supplies. With more than 20 years in the materials handling and warehouse industry, we're a leading racking supplier in China.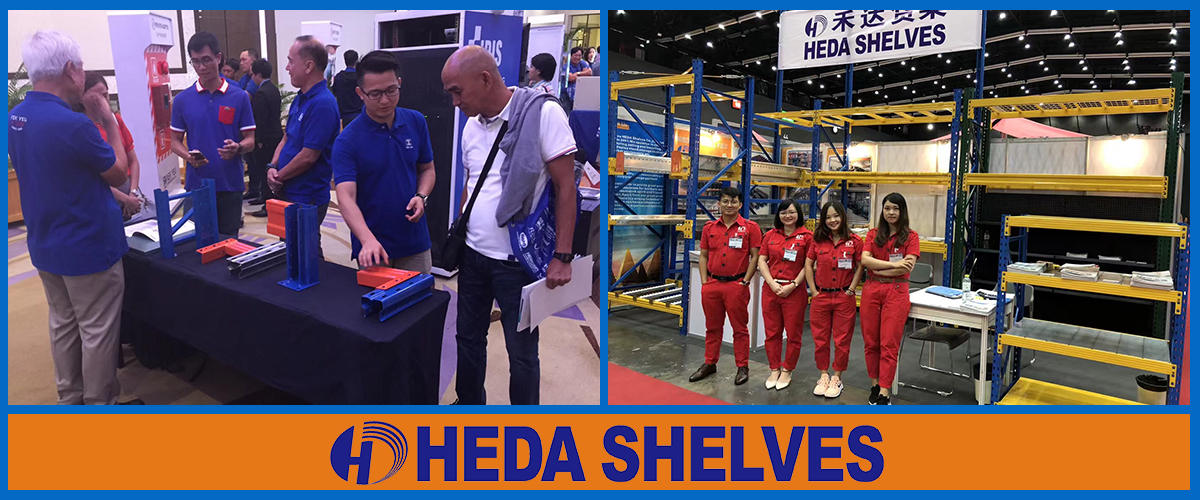 Leave a Reply
Your email address will not be published.Required fields are marked. *