By Rainee |
26
April 2023 |
0
Comments
Advantages of Gondola Shelving - Why It Is Popular In Retailing
Are you looking for a retail display solution that is versatile, easy to install, and cost-effective? Gondola shelving is the answer! These shelves can be used to display merchandise in both horizontal and vertical formats, and are prevalent in a variety of stores ranging from supermarkets to clothing stores.

Table of Contents

Flexible Display

Customized Attractive Displays With Accessories

Durable and Built to last

Perfectly fit into the store style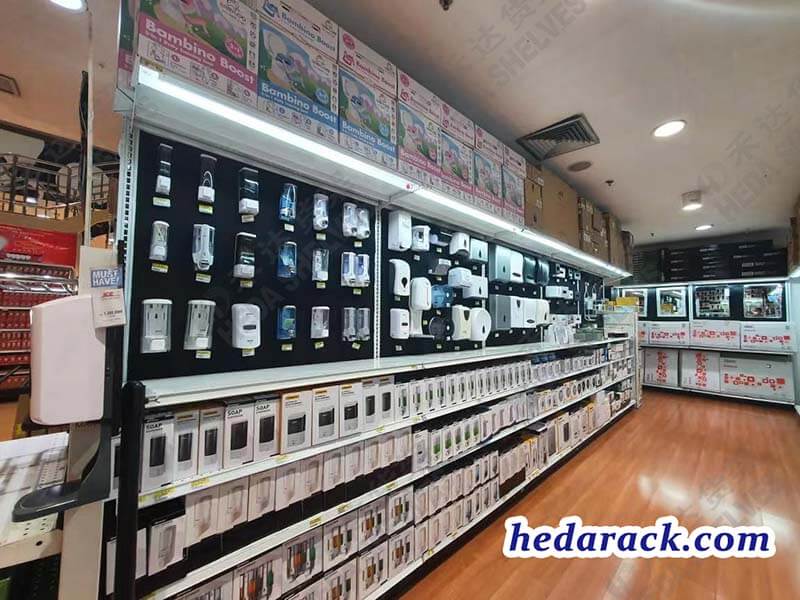 Flexible Display
Gondola shelves are typically made from metal and feature adjustable height and width capabilities. They are also usually equipped with either a pegboard or slatwall backing to allow for product placement and increased visibility. Additionally, gondola shelves come in a variety of colors and finishes to match any store's decoration.
Customized Attractive Displays With Accessories
The ways to use gondola shelves to display products are numerous. You can customize them with a wide array of accessories to make your shelving sleek, professional, and easy to understand. For instance, gondola label strips attach using an adhesive strip. Simply slide labels in or behind the plastic flap. This makes it simple to clearly display products and pricing and notify customers when something is out of stock. Gondola shelving allows for flexible product placement, which is beneficial for stores constantly changing their product selection. Additionally, gondola shelves are designed to maximize product visibility, which is useful for stores that want to draw attention to their merchandise.
Durable and Built to last
Heda Gondola Shelving is made with high quality Q235 cold rolled steel. This makes them sturdy and able to withstand heavy loads up to 120kg/layer. The shelving is resistant to damage and wear and tear that requires minimal maintenance, making it a great long-term retail display solution. Also, it is ideal for stores that are constantly dealing with large amounts of customer traffic.
Perfectly fit into the store style
In addition to their practical benefits, gondola shelves can also add to the aesthetic of any store. They come in various colors, materials, and sizes, so it's easy to find the perfect fit for any store's look.
Gondola shelves are an excellent display option for any retail store. Not only do they maximize product visibility and allow for flexible product placement, but they are also incredibly durable and easy to maintain. If you're looking for an effective way to display your merchandise, gondola shelves are a great option.
Leave a Reply
Your email address will not be published.Required fields are marked. *