Mezzanines will allow you to utilize the maximum height of a warehouse and double or triple the surface area. Adding a Mezzanine can be the most economical way to increase warehouse space without the cost of a conventional building expansion.


Multi-tier Mezzanine Racking system
Mezzanine storage systems also easily pay for themselves by doubling or tripling available storage space without the need for expensive building expansions. Free-standing mezzanines provide additional work areas or storage space by utilizing the wasted air space in your warehouse or manufacturing facility. Mezzanine storage increases your cubic space while freeing up valuable floor space for other use. Structural steel mezzanines can be configured in a wide range of sizes, floor types, and construction styles to fit almost any space or application, which can also be reconfigured or added on to at a later date.
Mezzanine Storage Advantages:
Allows you to take full advantage of the air space you already have
Mezzanines are free-standing and not connected to the walls or trusses of the building
Can be considered as capital equipment and therefore may qualify for tax advantages, which you should discuss with your accountant
Custom mezzanine designs can provide the most cost-efficient solution based on loading, size, clear span, or height requirements
Can be reconfigured as your business needs evolve (reconfigured, expanded or taken down)
Platforms or product lifts can be integrated to allow for movement of product between one level and another
Several different floor surfaces and construction types available to meet your required capacities and other needs
Mezzanines hold their value and can often be sold if a business' requirements change
Mezzanine Racking Applications:
Any warehouse, distribution center, or manufacturing facility with available air space
Placed over machinery, in offices, around building columns, shelving systems, etc.
Use for portions of your operation such as offices, assembly, kitting, spare parts, return goods processing, and/or inspection areas
Ideal for archive and record storage systems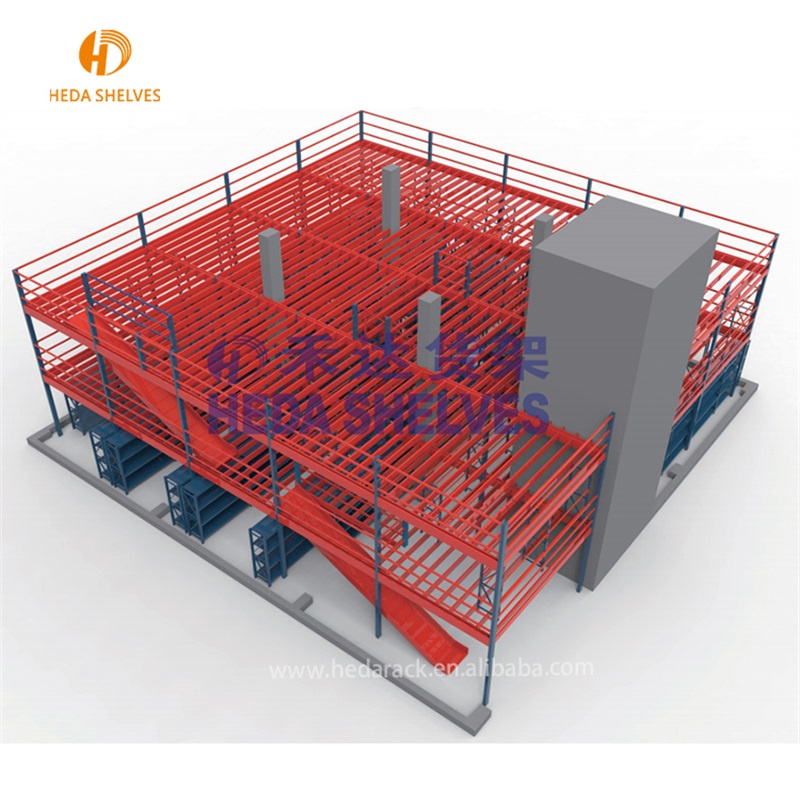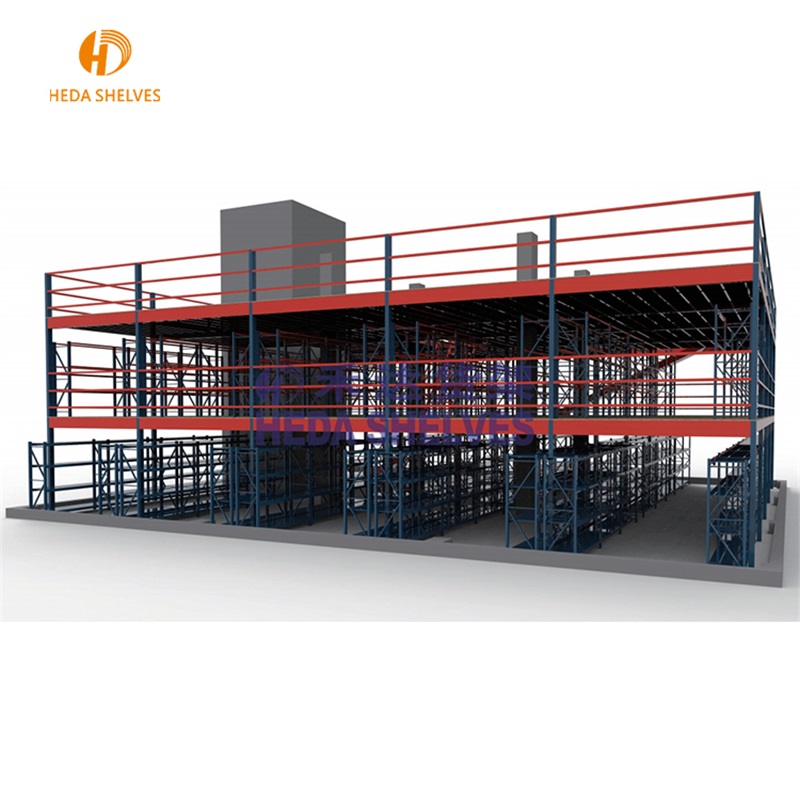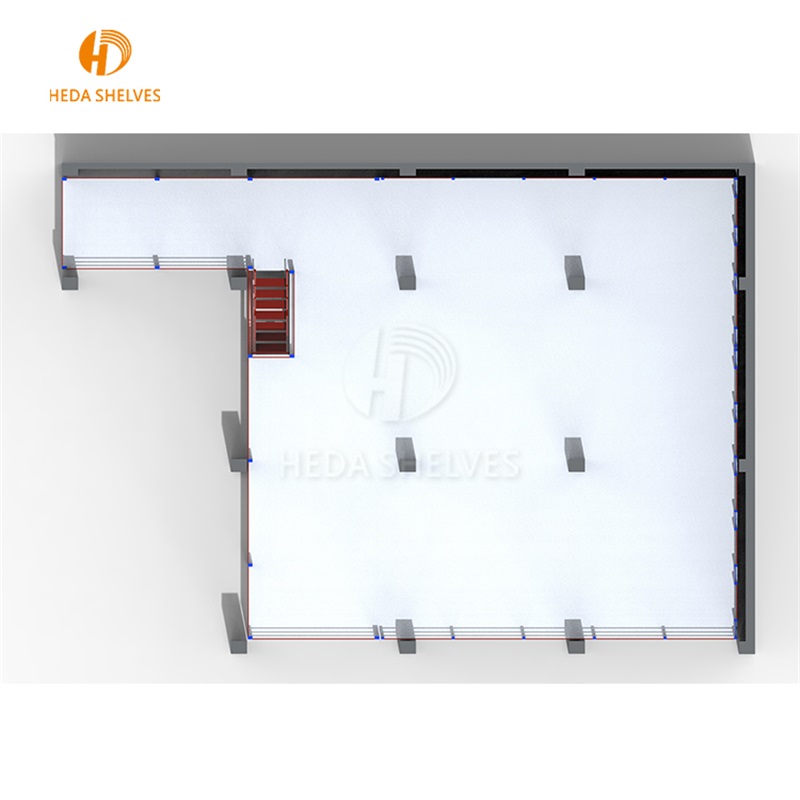 ABOUT HEDA

We have gained great credit from our foreign customers. We serve clients with the consistent principle of "the Best Quality, Durable Structure, Perfect Design,Punctual delivery and Customer Satisfaction". Scientific designs, delicate workmanship, reasonable prices and the best services make our corporate image perfect. Our development relies on your active participation and we will make every effort for further growth. For your support, we will move forward and further be the perfect shelf manufacturer and your best business partner!
Guangzhou HEDA Shelves Co., Ltd., established in 2011, is a professional company specializing in designing, manufacturing, selling and installing all types of displays and storage shelves, supermarket equipments. HEDA Shelves Co., Ltd. located in Pazhou - the Exhibition Base of Chinese Import and Export Fair Complex. We participates in many exhibitions every year, such as Canton Fair, TILOG - LOGISTIX 2018, etc. We have made various fashionable and shelves for different well-known brand customers.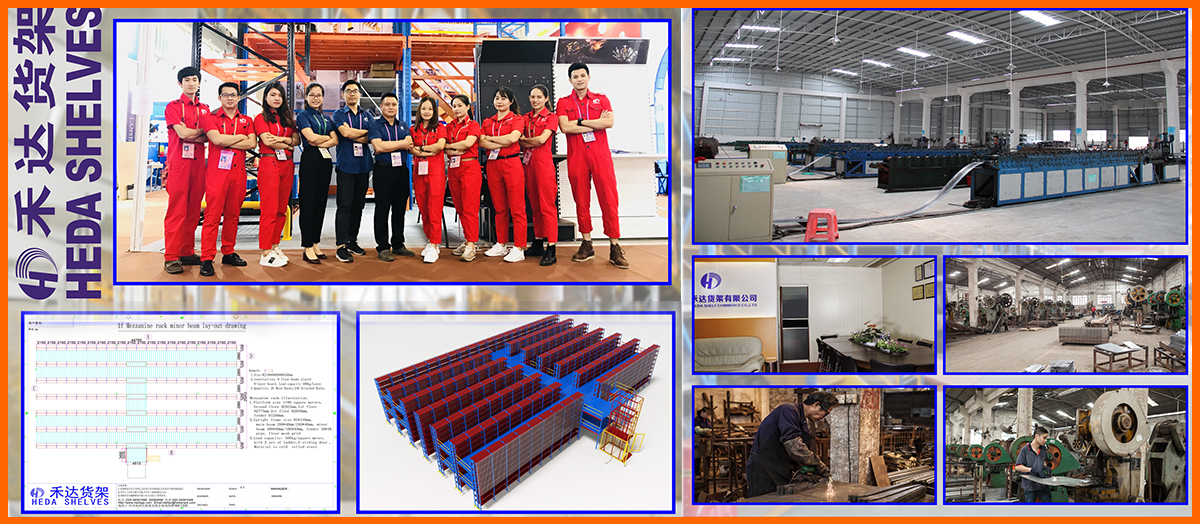 WHY CHOOSE US?
Our sales group is an energetic team full of vision, youth and vitality. Our passion, absorption and diligence have gained sincere trust and good reputation from customers all over the world. Also we have cooperated with many famous companies like Wal-Mart and Jusco. With our professional design team and creative ideas , we can make and design all shelves according to our client's requirements.
Customization is warmly welcomed!